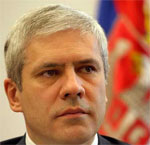 Serbian President Boris Tadić said that there will be a resolution on Serb victims adopted along with the resolution condemning the Srebrenica crimes.
He said that he initiated the Srebrenica resolution, which has been finished, because he believes that "this question is not a partisan or a political one, but a question of values and morals."
"With this resolution we are removing the anathema from our people, protecting our national interest, and it will be confirmed that there is no collective guilt and that every crime has a first and a last name," Tadić said.
"I know that it is not greeted with approval everywhere, I did not expect it to be, but in the end, the adoption of these resolutions will be useful for the people and state of Serbia. We have to start the initiative which alters reality in a positive direction," Tadić said.
He said that the Srebrenica resolution and resolution on Serb victims must be separate, adding that both will be adopted.
"Everyone experiences the suffering of personal and national victims, but the Serbian people and state will show empathy for the victims of others. The criminals must be punished for their acts because of the victims and their families and for the reconciliation of the people of the Balkans," Tadić said.
"Only with these policies can we recognize the suffering of others and give respect to their victims and gain credibility on the international plan for leading national policies," Tadić said.
He called on "all participations in the political scene in Serbia to unite against party divisions, the misuse of this topic, and hate speech," in order to reach a consensus on the issue.