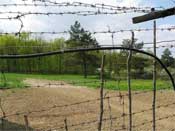 The barbed wire from the Prut River, that separates the Moldo-Romanian borders, will be removed till the beginning of March.
The barbed wire will have to be removed by the employees of the Frontier Guard Service and local authorities. These EOD supplies will disappear from sector of the border guard offices from Stoianovca, Gotesti and Cahul; Cotul Morii and Leuseni; Ungheni.
The barbed wire will be maintained in the Reservation zone "Padurea Domneasca" (Glodeni) and in the region of the weir Costesti-Stanca.
Moldovan Prime Minister Vlad Filat signed an order and an action plan in this context a few days ago.
The removal of the barbed wire from the Prut River was proposed two years ago by the embers of Ungheni District Council, when they developed a project of modernization of the supervision system at the borders and giving up the barbed wire. Yet, the Moldovan ex-president Vladimir Voronin, prohibited that. Moreover, he threatened the councillors and the head of they district they would be sent to prison if they dared removing the wire.