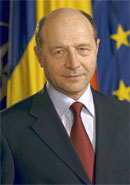 Romanian President Traian Basescu is to visit Chisinau at the end of the month, said Moldovan Foreign Minister Iurie Leanca.
This will be Basescu's first visit to Moldova since Vladimir Voronin stepped down. The president's schedule will be rich in events, but it is still under development, said Iurie Leanca.
His statement comes after the pronouncement of the acting Moldovan President Mihai Ghimpu that he is ready to cancel the meeting with Traian Basescu in Chisinau until Romania changes its ambassador in Moldova.