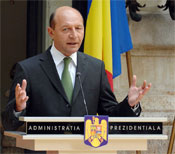 On Wednesday, during his meeting with ambassadors to Bucharest, Traian Basescu stated that supporting Republic of Moldova in term of accession to European Union is a "dear project" of Romania.
He specified that he would make his first visit as a head of state to Chisinau in one week.
President Traian Basescu is expected to come to Chisinau on 27 and 28 January. According to the draft program, the Romanian President will meet the interim head of Moldovan state Mihai Ghimpu, Prime Minister Vlad Filat and Mayor Dorin Chirtoaca. Basescu will keep a discourse in the Chisinau Parliament. The second day of his visit, the Romanian President will go to Tiganca, to visit the Romanian Heroes Cemetery.