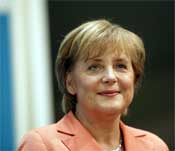 I am concerned when we talk about Bulgaria, to talk about Bulgaria. German government can ensure a fair chance, not to speak about an entire region but for each country individually and for its efforts. The assessment is currently being given by the European Commission and European Central Bank – about the euro area. They will decide what are the predictions, how the criteria are being met. Here, national governments do not intervene.
But I am about this – when we talk about Bulgaria, to talk about Bulgaria and nothing else – Angela Merkel said as answering a question about Germany's support for Bulgaria's membership in the euro area and the Schengen area.
We asked Mrs. Merkel, when it is speaking of Bulgaria to speak about Bulgaria and its successes or shortcomings – Boyko Borisov said. Do not compare us with Greece or Romania, Borisov said.
Bilateral economic cooperation could be enhanced, Merkel said further.
There would be talks in the economy field. It is important to have trust, confidence in expanding economic cooperation. Then there would be greater Germany investments. I do believe that we will participate in large investment projects, Angela Merkel said.