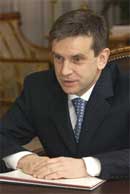 The new Russian ambassador in Ukraine and presidential envoy for trade and economic cooperation with Ukraine Mikhail Zurabov has arrived in Kyiv.
Zurabov arrived at the local airport at about 11 a.m. on Jan. 25. He was welcomed by officials from the Ukrainian Foreign Ministry and Russian embassy.
Upon his arrival Zurabov is expected to make a statement for the press and present copies of his credentials to the Ukrainian Foreign Ministry at 3 p.m.
Zurabov was appointed to his post at the beginning of August 2009 replacing Viktor Chernomyrdin. However, several days after his appointment Russian President Dmitry Medvedev wrote an open letter to Ukrainian President Viktor Yuschenko accusing him of pursuing an anti-Russia policy and announcing his decision not to send the ambassador to Kyiv in the mean time.
After the first round of presidential elections in Ukraine on January 17 Medvedev instructed Zurabov last week begin performing his duties and also appointed him his envoy for trade and economic ties with Ukraine.