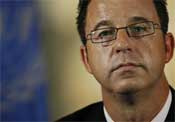 The chief prosecutor for the International Criminal Tribunal for the former Yugoslavia, ICTY, Serge Brammertz, says that the most wanted fugitives in the region, Ratko Mladic and Goran Hadzic, are hiding on Serbian soil.
"On the basis of information received from Serbia we have no reason to believe that they [Mladic and Hadzic] are not in Serbia," Brammertz told the European Parliament.
He expressed hope that there would be "positive developments" between now and his next regular report on Serbia. However, he warned that if there were no progress, he would not hesitate to mention it in his next report to the UN Security Council, due in June.
"The last thing I want to give is the impression that everything is fine," the chief prosecutor said. "The arrest [of Mladic and Hadzic] is the absolute highest priority and the reality is in fact that a very limited group of people are entrusted with arresting the fugitives, while a significant number help to hide them."
He stressed his concern that many in Serbia support Mladic and consider him a hero.
"We at the Tribunal, along with local politicians, have to recognise that if we have not been able to communicate to the people that there is no reason to consider general Mladic a hero, that shows very clearly that more has to be done," Brammertz said. "Politicians in the region and members of governments have to play an important role and support the process of international justice," he added.
Brammertz said other aspects of Belgrade's cooperation are satisfactory. He qualified this as "business as usual" as he receives technical briefings on a weekly basis. He added that he follows operational activities very closely and that possible results may be seen "in a few months time".