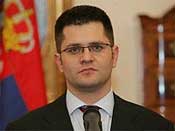 Serbian Foreign Minister Vuk Jeremić was in Bijelo Polje, northern Montenegro, yesterday, when he said that conflict between brothers is the greatest misfortune.
Addressing a St. Sava Day celebration in the town, he called for unity of Serbia and Montenegro.
He reminded the participants of St. Sava's adage that conflict between brothers is the greatest misfortune and that if one does not stand upright on his own in the face of greatest hardships and ordeals, no one can support them.
"Throughout history, Serbia and Montenegro have always been together and have never been, nor must they ever be, in conflict," Jeremić said.
"Today, like in St. Sava's time, relations in the world are changing, but the brotherhood, common history and common survival of Serbia and Montenegro are eternal," he said.
"The unity of the peoples of Serbia and Montenegro in religion, customs and spiritual heritage cannot be destroyed," Jeremić said.
The greatest challenge the Serb people is facing today is once again Kosovo, he noted, and reminded of the words of the newly elected Serbian Patriarch Irinej da Kosovo is Serbia's Jerusalem.
"Serbia is today defending Kosovo with truth and wisdom, with determination and wholeheartedly, as this is its historic duty," he stated.
The minister also said that Serbia will not give an inch in defending Kosovo, as it had never done in past centuries, is refusing to do now, and will never do in the future.
"By celebrating St. Sava and living every day according to his teachings, the people of Serbia are stitching an embroidery linking the present with eternity," Jeremić concluded.