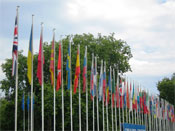 The Council of Europe adopted a Resolution late Thursday, urging the Albanian government and the opposition to put an end to the current political crisis.
The 10-paragraph Resolution, adopted late Thursday, described the political situation in Albania as political crisis, and urges both the authorities and the opposition parties to establish a political dialogue to overcome the crisis.
The resolution urges the government to initiate a formation of parliamentary pane; to probe the June 28 elections. It also urges the opposition to end the boycott of parliament.
Albania's Socialist Party leader Edi Rama sees the Resolution as Strasbourg's strong support to Albania's opposition.
Parliament speaker Josefina Topali, on the other hand, sees the resolution as an appeal to opposition to return to parliament.