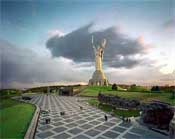 Macedonia and Ukraine will soon scrap visa requirements to promote trade and investment between the two countries, Ukrainian foreign ministry said.
The visa-free travel agreement is expected to be signed in early February. Macedonian foreign minister Antonio Milososki and his Ukrainian counterpart Petro Poroshenko met Thursday to discuss the procedure of signing.
Malinowski also invited Poroshenko to visit Macedonia in March.
The draft-agreement on visa-free travel won an approval by Ukraine's Cabinet of Minister in November 2009.