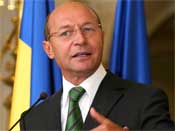 "The effort must be made. It requires sacrifices from the population and the politicians because the EU environment offers prosperity," President of Romania Traian Basescu said while visiting the State University "Bogdan Petriceicu Hasdeu" in Cahul on Thursday.
"We do not look at Moldova from height. Romania has yet to make progress in the EU. We are not far away from you. But Moldova remained static for a long period of time. I do not make political assessments. Moldova positioned itself in a gray area between the EU and the former Soviet territory, not knowing what it wants. The signs during the last five months in Moldova have been positive, but you should realize what you have to do so as to come closer to the EU, Basescu said.
The Romanian head of state told those present in the hall of the University that the people should also show solidarity.
"The switch to another European economic system means price rises, abandonment of subsidies. The Romanians went though a difficult time, but endured because they wanted to join the EU and NATO," Basescu said.
Earlier in the day, the Romanian President accompanied by Moldova's Acting President Mihai Ghimpu and a delegation of Romanian ministers visited the Romanian consulate din Cahul, which is to start work soon. It is located in the building of a former bank, in central Cahul.
At the end of the visit to Moldova, Traian Basescu hugged Mihai Ghimpu. Afterward, the Romanian delegation left for Bucharest.