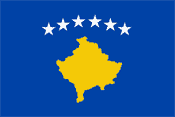 Kosovo opened its embassy in the Croatian capital Zagreb on Friday, only two days after celebrating the second anniversary of its disputed declaration of independence from Serbia.
"Croatia is very important to us, it provides a good model for us in terms of what we need to do to achieve our goal of joining NATO and the European Union," Kosovo's first ambassador to Croatia, Valdet Sadiku, told journalists during the embassy opening ceremony.
The embassy was opened in the presence of Croatian Foreign Minister Gordan Jandrokovic and Kosovo's President Fatmir Sejdiu, who arrived in Zagreb on Thursday to attend the inauguration of the new Croatian president, Ivo Josipovic.
Serbian President Boris Tadic refused to attend Josipovic's inauguration in protest over Sejdiu's presence.
Belgrade rejects Kosovo's unilaterally proclaimed independence and considers the breakaway territory its southern province.
Despite strong objections from Belgrade, Kosovo's independence has so far been recognized by 65 countries, including the United States and all but five European Union states.
However, it is rejected by many UN member states, including Serbia's supporters, Russia and China.