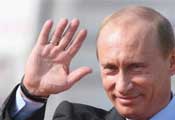 Russia Prime Minister Vladimir Putin has congratulated Bulgaria ahead of the country's national holiday on March 3.
Putin sent a telegram to Bulgaria PM Boyko Borisov Tuesday in which he expressed his heart felt congratulations to Bulgaria for the national holiday, the government press service reported.
He also sent his wishes for the health and success of PM Borisov and the well-being and prosperity of the Bulgarian people.
"I hope that relations between our countries will continue to develop fruitfully in a spirit of friendship and mutual respect," Putin concluded.
Bulgaria celebrates Wednesday the country's National Holiday, March 3rd and the 132nd anniversary of its Liberation from five centuries of Ottoman dominance.