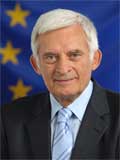 Bulgaria will join the Schengen Area in the next year and the Eurozone – within 3 years, European Parliament President Jerzy Buzek has predicted.
Buzek was on his first official visit to Bulgaria for the country's national holiday – March 3, Liberation Day.
Speaking after meeting Bulgarian PM Boyko Borisov, Buzek declared that he hoped the Kozloduy Nuclear Power Plant will be decommissioned with the help of EUR 180 M in EU funding and that there will be more EU money made available for other energy projects in Bulgaria.
Earlier, after meeting with Parliament Speaker Tsetska Tsacheva, Buzek stated that energy security is an important issue for all European citizens.
"I am coming from Brussels with a message of solidarity, which is important because we are still experiencing crisis. With this solidarity we can overcome difficulties to create more jobs for European citizens to improve their situation and to meet their expectations," he told the Bulgarian Parliament.
After speaking in the Parliament, Buzek gave a lecture at Sofia University, with his message focusing on European solidarity and calls for boosting economic performance through investment in science and technology.
Buzek did agitated the student audience at Sofia University with his answers to questions about GMOs posed by student activists campaigning for a "GMO-free Bulgaria."