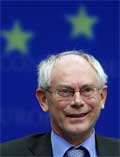 I will participate in the Western Balkans summit, which will take place in Brdo if Serbian President Tadic makes an appearance.
President of the European Council, Herman Van Rompuy made the remarks, saying that it's in Serbia's interest to attend the conference, which will take place in Slovenia on March 20.
I will attend the summit only if Serbian President Boris Tadic does. I think this to be a good message. Time will tell whether Serbia understood the message. However I wouldn't want to intrude, Rompuy said.
Similar message was send by MEP Jelko Kacin EU rapporteur to Serbia, saying that if Serbia decides not to show up at the summit, that would mean either that Serbia is the problem in the region or has unclear position on solving issues in the region.