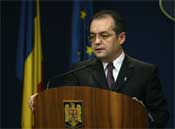 Romanian Prime Minister Emil Boc and Russian vice PM Igor Shuvalov will come to Chisinau this week.
The announcement was made by the Moldovan head of the government Vlad Filat, during a meeting with the members of "Parlamentul 90" association.
Filat mentioned the two foreign dignitaries would come on March 31st.