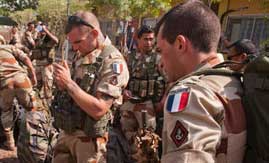 France's foreign minister Laurent Fabius is making effort for a UN vote next month aimed to approve peacekeepers for Mali.
The peacekeepers should take the control from French and African forces that are currently fighting Islamic extremists in northern Mali.
The fighting has become harder since January (when the campaign started) and French forces are not ready to leave yet.
Fabius said on Thursday that he hopes for a decision in April at the United Nations to put in place the peacekeepers which should stabilize Mali's government and army in order to hold elections in July.