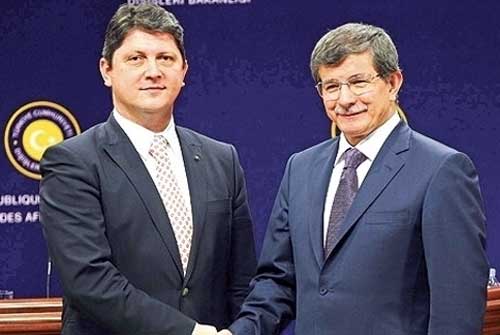 Turkish and Romanian foreign ministers signed a cooperation protocol in the fields of education, culture, youth and sports in the Turkish capital, Ankara.
Romanian Foreign Minister Titus Corlatean said this protocol will strengthen the relations between the two countries.
"The signing of the action plan for the strategic partnership really excites us. The steps we have taken to materialize cooperation in the areas of concrete cooperation projects, economy, energy, transport, culture and education really excites us. I believe the implementation of our strategic partnership will further develop our relations. Turkey and Romania think alike both in EU's expansion policy and the developments in the Middle East," Corlatean said.
He added that Romania supports Turkey's EU membership which membership would both strengthen Turkey and the Union.
"Romania supports the opening of chapters in Turkey's EU accession process. Because, we believe this would create a win-win situation for both Turkey and the EU member states," the minister said.