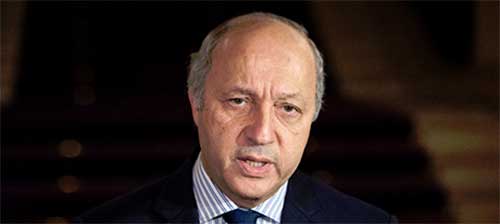 All options are open in response to an alleged chemical weapon attack in Syria, French Foreign Minister Laurent Fabius said Monday.
Asked by the local broadcaster Europe 1 on the possible use of force against Syria, the French top diplomat said "the decision is not yet taken," but a coordinated Western response will be "decided in the coming days."
"All options are open. The only one that is not on the table is not to do anything," he said.
Fabius said the international community could bypass the United Nations to launch a military intervention in the Arab country "in some circumstances, but … the international law exists."
There have been intensified discussions among Western countries on a possible military response to the Syrian government after the Syrian opposition claimed that 1,300 people had been killed in a government chemical weapons attack on militant strongholds in the suburbs of Damascus last Wednesday.