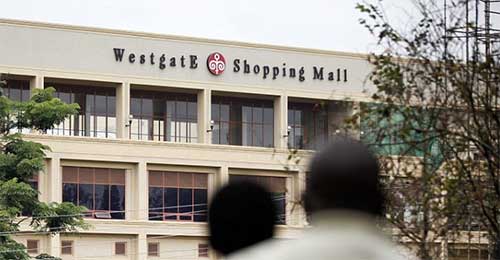 Turkey has strongly condemned the deadly attack on an upscale Kenyan shopping mall by an al-Qaeda-linked group that killed and injured dozens.
A statement the Turkish Foreign Ministry released yesterday expressed condolences for the families of the victims and the Kenyan government and people. It added that these kinds of terrorist attacks were aimed at damaging the will of the Somali people and its government to build a state and establish durable peace.
A series of loud explosions and heavy gunfire was heard at Nairobi's Westgate shopping mall Monday as Kenyan troops fought Islamist militants who were holding hostages after massacring at least 68 people, AFP has reported.
As the stand-off entered its third day, sustained bursts of rapid gunfire broke out at dawn, and soldiers posted around the complex ducked for cover. This was followed by three big explosions and more sporadic weapons fire, AFP correspondents at the scene said.
The Kenyan army said it had secured most of the upmarket, part Israeli-owned complex, while a security source said a final assault was underway against the Al-Qaeda-linked Somali Shebab rebels, believed to be pinned down in a part of the mall but using hostages as human shields.
"Our concern is to rescue all hostages alive and that is why the operation is delicate," the Kenya Defence Forces said in a statement overnight, adding that it was trying to bring a "speedy conclusion" to the drama.