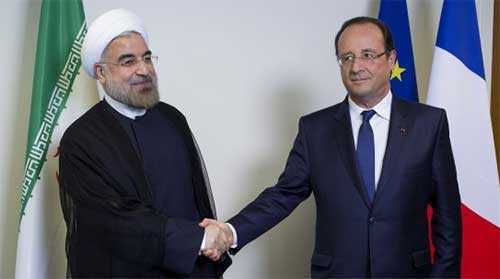 French President Francois Hollande urged Iran Tuesday to make "concrete gestures" on its disputed nuclear program as he met Tehran's new leader.
"France expects Iran to make concrete gestures to show that it renounces its military nuclear program, even if it has a right to a civilian program," Hollande told the UN General Assembly.
Hollande met later Tuesday with new Iranian President Hassan Rowhani, a reputed moderate who has called for better relations with the West.
The two leaders smiled for the cameras and shook hands before entering closed-door talks at France's United Nations mission.
"The question at hand is to know if these words can translate into actions, especially on the nuclear issue," Hollande said at the General Assembly.
"For the past 10 years talks haven't gone anywhere," he added.
Rowhani is paying a closely watched visit to the United Nations, three months after elections that swept him to power.
The visit raised the possibility of a historic interaction between Rowhani and US President Barack Obama, but the White House said the meeting was too complicated to arrange.