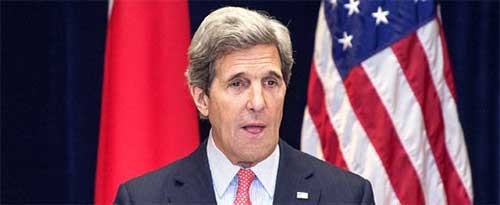 US Secretary of State John Kerry discussed on Monday with UN Special Representative Lakhdar Brahimi the urgency of convening the Geneva II Conference on Syria as early as possible.
At a joint press conference with Brahimi after their talks at Winfield House here, Kerry said the planned conference is to "try to achieve peace for a new Syria. And we talked about all aspects of this current crisis." "Special Representative Brahimi and I agree, as do many others, that there is no military solution in Syria, and we believe it is urgent to set a date, convene the conference, and work towards a new Syria," he pointed out.
"We also, expressing my own point of view – because he's the negotiator and it's not his point of view to say this – but we believe that President Assad has lost the legitimacy necessary to be able to be a cohesive force, that could bring people together, and that it is clear that in implementing Geneva I, which is the only purpose for having the Geneva conference now, there has to be a transition government. "There has to be a new governing entity in Syria in order to permit the possibility of peace. This will require all the parties to come together in good faith," Kerry said.
"The Special Representative will be traveling shortly to the region, meeting with all of the relevant countries, as well as the relevant parties. And he will be working on the question of the process for a Geneva II conference.
"But for our part, the United States of America, together with the Russians, as we talked about it in the Far East a few days ago, are deeply committed to trying to set a date very soon, to moving towards an inclusive conference that will offer the best opportunity to end the violence, to provide for a new Syria, to deal with the humanitarian catastrophe that is only getting worse by the day, and ultimately to try to find a way to have peace and stability, not just in Syria but in the region.
"And we are very, very appreciative to the Special Representative, for his commitment to this, for his hard work, for his team and their efforts," he went on. "We believe that we're in a position to try to get started. It will require good faith by everybody, but that's exactly what we're going to continue to work towards," he added.