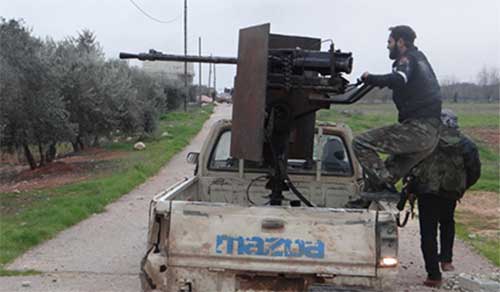 Clashes between supporters and opponents of Syrian President Bashar Assad in Tripoli continued for a third day Wednesday, leaving one dead and 29 wounded so far amid heavy military deployment in the northern city.
Schools across Lebanon's second largest city remained closed Wednesday as fighters in the mainly Sunni Bab al-Tabbaneh neighborhood exchanged rocket-propelled grenades, mortar bombs and assault rifle fire with rival militants in nearby Jabal Mohsen, a mainly Alawite area loyal to Assad.
Eleven people were wounded Wednesday, bringing the total to 29, including four soldiers. A 13-year-old boy identified as Daniel Ahmad was killed Tuesday.
Military units backed by armored vehicles patrolled some neighborhoods and responded to some of the gunfire by firing into the air, as the fighting between the two sides raised fears that a new wave of violence could rock Tripoli.
Lebanese Army commandos briefly deployed at the Hariri Project area, located between Baqqar and Jabal Mohsen, only to pull out at 4 a.m.
Clashes broke out Monday evening following Assad's appearance on a television interview, but subsided later at night. It was the most severe violence since the Army and security forces deployed in the restive northern city as part of a "security plan" aimed at keeping the peace. The first phase of the plan was put in effect after twin car bombs exploded at separate mosques in the city, killing 47 people and wounding over 100.