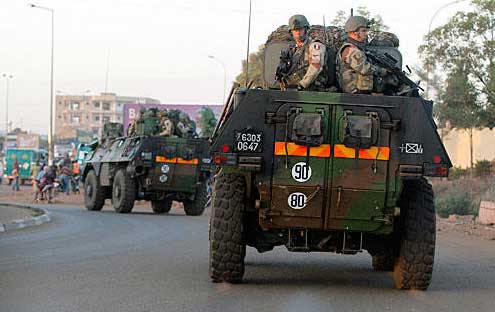 French and Malian forces are questioning suspects in northern Mali to find a small group of militants who carried out the killing last week of two French radio journalists, Foreign Minister Laurent Fabius said on Monday.
Claude Verlon, 58 and Ghislaine Dupont, 51, both journalists at RFI radio, were found dead in northern Mali on Saturday after being kidnapped in the city of Kidal.
Their bodies are due to arrive in France later on Monday.
Fabius declined to confirm a report from Europe 1 radio, citing Malian sources, that French forces had arrested five suspects and transferred them to the city of Gao.
"Yesterday, on Sunday, operations were launched to identify a number of people in camps, and they are ongoing," Fabius told RTL radio. "Suspects have been questioned."
Europe 1 reported that the arrests had taken place on Sunday evening in camps where former rebels of the MNLA militant group are being held. France's Defence Ministry was not immediately available for comment.
A Malian gendarme in Gao said he had no information about the arrests or suspects being transferred to the city. French forces declined to comment on reports of arrests.
A French-led military intervention helped to expel most al Qaeda-linked militants from Mali, but the killing on Saturday highlighted security risks and incomplete control of the country by French and Malian forces.
Kidal, the birthplace of a Tuareg uprising last year that plunged the country into chaos, is a desert city where militants have been able to circulate despite small contingents of United Nations and French troops stationed there.