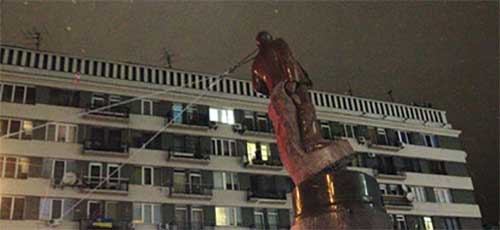 A group of anti-government protesters on Sunday toppled the statue of Vladimir Lenin in Kiev, the national capital, to vent their anger toward their government's decision to seek closer economic ties with Russia instead of with the European Union (EU).
The move came after the anti-government rally in Kiev was attended by hundreds of thousands of people. A local video footage showed that activists from the Svoboda (Liberty) Party first broke up the statue off its pedestal with tools such as hammers and ropes, then started to chant their national anthem.
Earlier on Sunday, Ukrainian Security Service said it had launched an investigation over reported actions aiming to seize the state power by force.