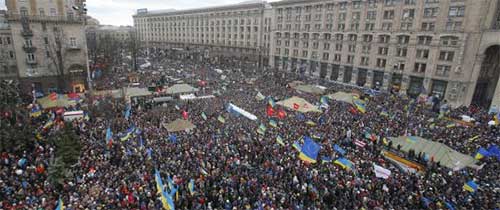 At least 200 000 pro-EU protesters have gathered so far and others continue flocking to downtown Kiev to rally against the Ukrainian government. 
Thousands of pro-EU protesters remained overnight in Independence Square in the heart of the city.
Opposition leaders urge protesters to keep rallying, but also to remain vigilant, fearing "provocateurs" could trigger clashes between rival demonstrators.
Yanukovych has said he fears the association agreement will put at risk many enterprises dependent on trade with Russia.
He claims he eventually will sign the deal – has also admitted being under heavy pressure from Moscow, which wants Kiev to join a Russian-led customs union instead.