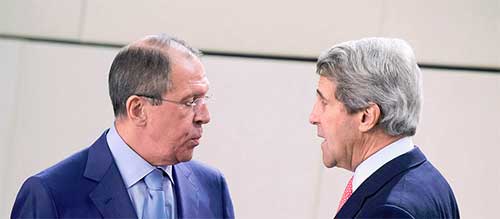 US Secretary of State John Kerry met one-on-one with Russian Foreign Minister Sergey Lavrov while both were attending the Nuclear Security Summit in The Hague.
Kerry pushed for Lavrov to pursue a dialogue with the Ukrainian government, US Department of State Deputy Spokesperson Marie Harf said on Monday.
Harf added that "Kerry expressed strong concern about the massing of a large number of Russian forces on the border and of the treatment of Ukrainian military forces, including many Ukrainian service members who are missing."
"Kerry pointed to the sanctions announced last week and the new executive order signed by President Obama that provides the flexibility to sanction specific industries if Russia continues to take escalatory steps," she affirmed.
Kerry gave Lavrov, "an update on the steps the government of Ukraine has continued to take on constitutional reform, to counter extremists and to prepare for elections on May 25th," Harf noted.