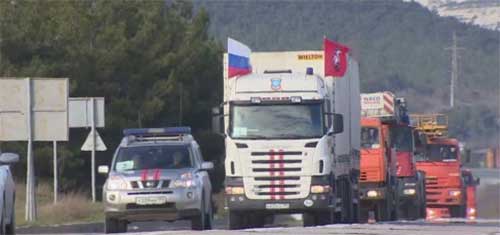 A Russian convoy carrying food, water and other aid set off yesterday for eastern Ukraine, where government forces are closing in on pro-Russian rebels, but Kiev said it would not allow the vehicles to cross onto its territory. Kiev and Western governments warned Moscow against any attempt to turn the operation into a military intervention by stealth in a region facing a humanitarian crisis after four months of warfare.
"This cargo will be reloaded onto other transport vehicles (at the border) by the Red Cross," Ukrainian presidential aide Valery Chaly said. "We will not allow any escort by the emergencies ministry of Russia or by the military (onto Ukrainian territory). Everything will be under the control of the Ukrainian side," he told journalists. Russian media said the column of 280 trucks had left from near Moscow and it would take a couple of days for it to make the 1,000 km journey to Ukraine's eastern regions where rebel fighters seek union with Russia.
Western countries believe that Russian President Vladimir Putin, who has whipped up nationalist fervor in Russia through the state-controlled media since annexing Crimea in March, might be spurred to fresh action since separatists in their main redoubt of Donetsk are now encircled by Kiev government forces. Rossiya 24 TV showed a 3-km long line of containers and trucks loaded with crates of water stretched along a road with workers in a light summer wear of shorts and shirts loading sacks of aid. A Russian orthodox priest marched across a line of trucks, spraying them with holy water before they left.
"It has all been agreed with Ukraine," Business FM radio quoted Putin's spokesman, Dmitry Peskov, as saying of an operation publicized with fanfare on Russian TV channels. The US, French and Australian governments voiced concern that Russia, sole international supporter of rebels in Ukraine's Russian-speaking east, could use the humanitarian deliveries to carry out a covert operation to help fighters who appear to be on the verge of defeat.
With Ukraine reporting Russia has massed 45,000 troops on its border, NATO said on Monday that there was a "high probability" Moscow might now intervene militarily in Ukraine. Itar-Tass news agency said the convoy was carrying 2,000 tons of humanitarian aid. It included 400 tons of cereals, 100 tons of sugar, 62 tons of baby food, 54 tons of medical equipment and medicine, 12,000 sleeping bags and 69 generators of various sizes.