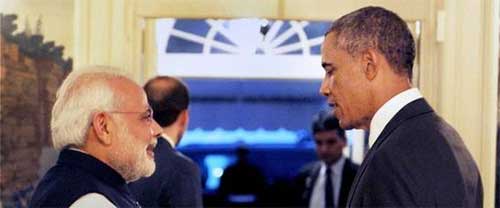 After their first meeting over dinner at the White House, Indian Prime Minister Narendra Modi and United States President Barack Obama unveiled a joint roadmap for Indo-U.S. ties by issuing a vision statement and writing a joint editorial, making "chalein saath saath," or "forward together we go," the central theme of the relationship.
The editorial, a first of its kind from an Indian and U.S. leader, was a product of days of "digital communication" since Mr. Modi landed in the U.S. It was published on the Washington Post website.
"India and the United States are bound by common values and mutual interests," wrote Mr. Modi and Mr. Obama, invoking the memories of visits by Swami Vivekananda to the U.S. and Martin Luther King Jr. to India. When Mr. Modi met Mr. Obama over dinner, the Prime Minister also handed over a photograph of the civil rights leader's visit to Rajghat in 1959.
The statements are comprehensive, dealing with collaborations on everything "ranging from particles of creation to outer space", but mark a more realistic appraisal of the relationship, given, the lack of forward movement in many spheres including the nuclear deal, and trade issues.
As a result, the vision statements refer to India and the US building "a transformative relationship", considerably less warm, than President Obama's words while addressing the Indian parliament during his visit in 2010, when he referred to it as "the defining partnership of the 21st century." The US's endorsement of India's claim to a permanent security council which was clearly enunciated in the joint statement in 2013 "looking forward to a reformed UN security council with India as a permanent member," is considerably different from the language this year, which speaks of "supporting an open and inclusive rules-based global order, in which India assumes greater multilateral responsibility, including in a reformed United Nations Security Council."
The pivotal issue for the two leaders is the cooperation on terror, in particular the 40-nation US led coalition against ISIS. "This is not a make-or-break issue, " analyst and former diplomat Ashley Tellis told The Hindu, "But will go a long way in the US to show India is ready to walk the talk, take responsibility for its internationally stated commitments on terror." However PM Modi has already pointed out that the so-called global coalition omits several countries, like Iran and Syria, and officials point out it would be a precedent for India to join a coalition not under the aegis of the United Nations.