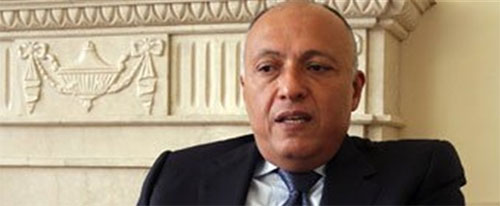 Egypt has valued "positive" steps taken by Iraq on internal and external arenas to successfully restoring security and peace in some parts of the country, calling the Iraqi government to continue these steps for full restoration of ties with neighboring countries.
Egypt condemns all forms of terrorism committed by the Islamic State in Iraq and Levant (ISIL) and other radical militias that target innocent civilians in Iraq, Egyptian Foreign Minister Sameh Shoukry said in a joint press conference with his Iraqi counterpart Ibrahim Al-Jaafari.
Shoukry expressed his country's aspiration for further security successes by Iraqi forces until the entire country becomes under their full-control, noting that he is to hand Iraqi Premier Haidar Al-Abadi an official invitation to visit Cairo.
For his part, Al-Jaafari affirmed his government's commitment to the national charter, signed by participating political blocs in what he called an Iraqi "diversified" government, adding that his government, since its formation, has accomplished tremendous achievements which positively reflected on the general security situation in the country after recent victories over ISIL.
The Egyptian foreign minister has arrived earlier at Baghdad International Airport along with an official delegation for a state visit, during which he is to hold discussions with Iraqi Prime Minister later after meeting with President Fuad Masum.