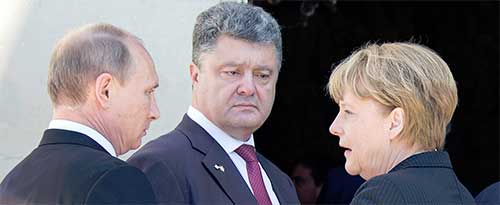 Russian President Vladimir Putin held a telephone conference Wednesday with the leaders of Germany, France and Ukraine to discuss creating a lasting peace in Ukraine, Russia's neighbor to the west, according to the Kremlin's official website.
Putin, German Chancellor Angela Merkel, French President Francois Hollande and Ukrainian President Petro Poroshenko shared opinions on extending the peace in the country, where a tenuous cease-fire has been in effect since early December, the Kremlin said.
The four leaders discussed their desire to see the so-called contact group, consisting of representatives from the Ukrainian government in Kiev and the leaders of the separatist regions in eastern Ukraine, meet as soon as possible to discuss the implementation of a peace process agreed to in September in Minsk, the capital of Belarus, the Kremlin said.
The most important tasks for the contact group include an exchange of prisoners and the removal of heavy weapons from the front lines, the Kremlin said. Economic regeneration of the conflict area and humanitarian aid to the local population were also discussed, according to the site.
However, newly appointed secretary of Ukraine's National Security and Defense Council said Wednesday that Russia could launch a full-scale war any moment and Ukraine needed to be prepared. Oleksandr Turchynov, appointed Tuesday, said during a press conference that Russian separatists were constantly violating the cease-fire agreed to in Minsk.
He said the council need to ensure mobilization of the country's army and resources in order to protect citizens in occupied territories and to be prepared in case of any attack.
The Kremlin communique said Wednesday that the national leaders had agreed to hold additional phone conferences in the "near future."