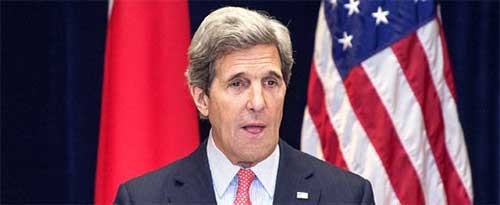 US and European sanctions against Russia could be lifted within days if President Vladimir Putin makes the right choices in Ukraine, top US diplomat John Kerry said Tuesday.
While he praised what he called "constructive moves in the last days" by Russia, he warned the future of the country's economy lay in Putin's hands.
The Russian currency crashed to unprecedented lows Tuesday as it fell to 80 rubles to the dollar and 100 to the euro, testing Putin's ability to ride out both the economic storm and his clash with the West.
Russia's Foreign Minister Sergei Lavrov said he even had "very serious reasons" to think Western sanctions were an attempt to force regime change in Moscow.
The American secretary of state told reporters the sanctions were not aimed at hurting the Russian people.
They "were clearly intended to invite President Putin to make a different set of choices," Kerry said on a visit to London.
"These sanctions could be lifted in a matter of weeks or days, depending on the choices that President Putin takes," he added.
Russia's emergency move to raise interest rates to 17 percent failed to arrest the collapse of the ruble overnight.
"We do not want the people to be hurting, this is not our goal. None of what we are doing is targeted specifically against the people," Kerry said.