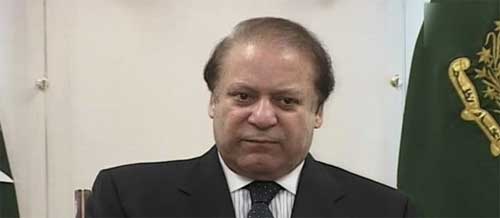 With the death toll in the Peshawar army school massacre rising to 148 overnight, Pakistan yesterday turned over a new leaf in its approach to terrorism.
Mr. Sharif swore that politicians would bury their differences and unite to defeat terrorism. Their meeting came as a photograph of the men who attacked the school was released by the Pakistan Taliban.
'We must not forget these scenes,' Mr Sharif said, 'the way they left bullet holes in the bodies of innocent kids, the way they tore apart their faces with bullets.' He announced the removal of the ban on the death penalty for terrorist offences which had been in force since 2008. Mr Sharif lifted the ban last year, but re-imposed it when he launched peace talks with militants.
The same message of determination and unity came from the new Afghan president, Ashraf Ghani, who yesterday met in Kabul with the heads of the Pakistan Army and the Inter-Services Intelligence, Pakistan's powerful military intelligence agency, to discuss joint strategies. A recent, unprecedented visit to Pakistan by Mr Ghani has helped dispel decades of mistrust between the Islamic neighbours.
The fear, with some Pakistani politicians blaming militants on the Afghan side of the border for facilitating the school massacre, is that the new understanding could unravel.