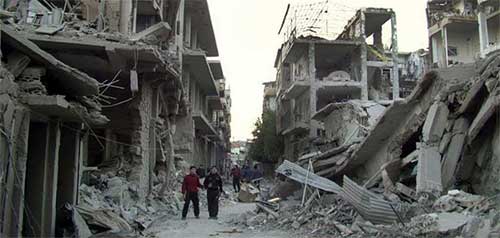 The United Nations envoy to Syria said Feb. 17 he has received a commitment from the Syrian government to suspend airstrikes and artillery shelling on the city of Aleppo for six weeks to allow a proposed U.N. plan to "freeze" hostilities in the country's largest city to be tested.
Staffan de Mistura was briefing the Security Council in closed session on his latest efforts to find a solution to the grinding civil war. There was no indication of when the suspension of airstrikes would begin, but the envoy said he will return to Syria "as soon as possible" to assess whether the government's commitment is possible and to announce a start date.
He called the new development a glimmer of hope. And he continued to emphasize a political solution to the nearly four-year conflict.
But questions remain. De Mistura now has to get the opposition's support for the plan, which includes a request for them to suspend rocket and mortar fire in the same period. And Syria's ambassador to the U.N. refused to comment after the council meeting.
"Let's be frank. I have no illusions," de Mistura told reporters. "Based on past experiences, it is a difficult issue to achieve."
This was de Mistura's first council briefing since he explained his freeze plan in October, and council members wanted to know what kind of support, if any, it received from President Bashar Assad in his meeting with de Mistura earlier this month.