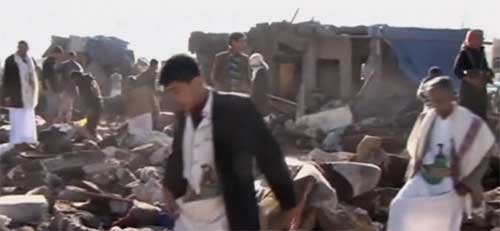 The UN High Commissioner for Human Rights Zeid Raad Ibn Al-Hussein called on all parties here Tuesday to protect civilians from harm and resolve the Yemen's current crisis through dialogue.
Ibn Al-Hussein on Tuesday warned against the fast deteriorating human rights situation in Yemen since 22 January when President Abd Rabbuh Mansur Hadi submitted his resignation after his government had made the same move, protesting against practices of the Houthis.
He said that since the removal of the legitimate government by force and the recent military operations in Yemen led by Saudi Arabia against the Houthi militias, the country is witnessing deteriorating situations.
Heavy fighting has also been reported in the streets of Aden resulting in casualties and making the humanitarian situation extremely difficult, he said, adding in Ad Dali', the 33rd armoured division and Houthis-affiliated brigades reportedly attacked three hospitals, causing an unknown number of casualties.
"I roundly condemn all attacks on hospitals and other medical facilities, which have a special protected status under the international law," Ibn Al-Hussein stressed.
In a same context, the International Organization for Migration (IOM) said in a statement that its team in Yemen is concentrating its efforts on aiding internally displaced persons (IDPs), while seeking to support the evacuations of international personnel.
The IOM in Yemen has received requests from Sri Lanka, Sudan, Ethiopia, amongst other countries for the evacuation of their respective nationals out of Yemen, it added.
Thus, the IOM is reviewing options to provide assistance, although the current priority is supporting the safety and security of its workers, it made clear.
Security issues are preventing IOM staff from moving in public, creating difficulties in gathering information at this point, it said, adding internet connections are spotty.
The number of IOM's workers exceed 400 currently working in Yemen who are doing their best in the circumstances to serve the affected population, the statement mentioned.