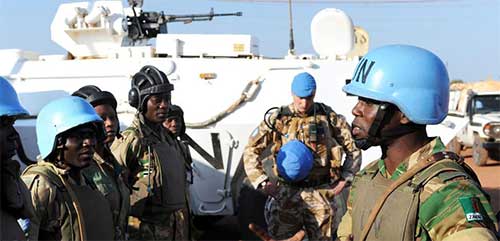 A suicide bomber attacked a UN barracks in northern Mali on Wednesday, the United Nations said, killing three civilians and wounding 16 people, including several peacekeepers.
The militant was attempting to drive into a camp used by the UN's Minusma peacekeeping mission in Ansongo, in the northern region of Gao, when the explosives went off.
"The attack left nine injured, two seriously, among the peacekeepers from the Niger contingent. In addition, the explosion has killed at least three civilians. Seven (civilians) were also injured," Minusma said in a statement.
Minusma did not specify if the bomber was acting alone or if there were others in the vehicle.
The mission's head Mongi Hamdi condemned the "cowardly and odious" attack.
"I am shocked that valiant peacekeepers are again being targeted, as well as innocent civilians. This attack will not deter Minusma from its mission of restoring peace and security in Mali," he was quoted as saying.
"A vehicle tried to penetrate the camp and there was an explosion," Olivier Salgado told the reporter by telephone from the capital Bamako. He said the casualty figure was provisional as the wounded were still being evacuated.