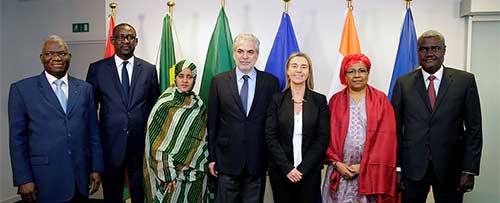 EU High Representative Federica Mogherini, met here Wednesday with the foreign ministers of Mali, Mauritania, Nigeria, Chad and Burkina Faso and discussed the EU's relations with the five countries of the Sahel region.
"We have decided to meet regularly at ministerial level and our technical services will work on three specific priorities; firstly combating terrorism and organised crime including border controls and combating all kinds of organised crime. Secondly, a close cooperation that we will develop further in order to manage together migratory flows and combat trafficking networks. This is a common challenge," Mogherin told a press conference after the meeting.
In the EU as far as development aid is concerned "we will be mobilising around EUR five billion between 2014-2020 for the Sahel region," she noted.
On his part, Moussa Faki, foreign minister of Chad told the joint press conference that the EU has drawn up a strategy for the Sahel, which goes back to 2011, supported by an action plan and "we found agreement on the four major axis for action; firstly, fighting radicalisation addressing the problem of young people, borders and the prospects in fighting terrorism, crime and at the same time development projects." Regarding Libya, he said "we have to find a solution regarding Libya in order to get back afloat a state coming back from a void. Then regarding what we do to fight the problem of Boko Haram there are decisions to be taken there." A joint statement issued after the meeting said the two sides are "in convergence of our analyses on the situation in the Sahel and share our thinking on how to address the security challenges that affect us, particularly in connection with the ongoing tensions in Libya and the rise of Boko Haram.