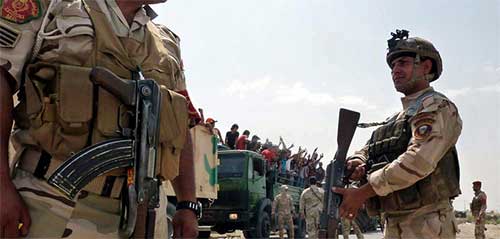 Iraqi forces tightened the noose on the Islamic State of Iraq and the Levant (ISIL) in its stronghold of Anbar on July 13 with a ground operation teed up by a record number of coalition air strikes.
Iraqi security forces, Shiite paramilitaries and Sunni tribal fighters advanced towards Ramadi and Fallujah, the two main cities in the western province of Anbar.
In a long-awaited morale boost, a much-delayed first batch of US F-16 fighter jets flew to Iraq on July 13, a delivery that should enhance the capacity of the country's embattled military.
However, it was warplanes from the US-led coalition that did the grunt work in Anbar on July 12 when 29 strikes were carried out against ISIL targets, the American military said.
"Near Ramadi, 29 air strikes struck 67 ISIL staging areas destroying two ISIL excavators, an ISIL armoured personnel carrier, and an ISIL vehicle," the US statement said.
That number of strikes on a single area on the same day is unusually high.
The US statement did not provide specific locations, but on July 13 Iraqi forces recaptured two villages east of Ramadi.
"The security forces were able to advance and liberate the areas of Albu Shijil and Shiha near Khaldiyah, between Saqlawiya and Ramadi," an army lieutenant colonel said.