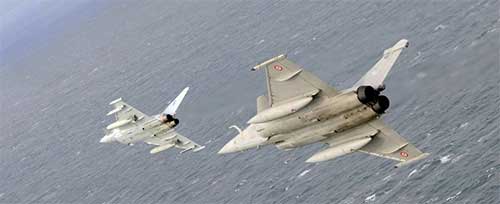 Egypt on Monday took delivery of three Rafale fighter jets from France, the first of 24 warplanes sold in a $5.6bn deal earlier this year.
Egyptian authorities took charge of the planes at an air base in southern France, and they will be flown to Cairo by specially trained pilots on Tuesday.
Cairo is hoping to boost its military presence as it faces an unstable Libya to the west and threats from militants linked to the Islamic State group in its Sinai Peninsula to the east.
For Egypt, the agreement is also a show of support for President Abdel Fattah al-Sisi, who overthrew his Islamist predecessor in 2013 and wants to break a US monopoly over arms sales to Cairo.
The deal is a much-needed boon to cash-strapped France and Paris hopes that by showcasing French military technology it will prompt more orders for its premier combat jet, which it struggled for years to sell.
The overall deal also includes contracts for missiles and for an FREMM multi-mission frigate from naval group DCNS.