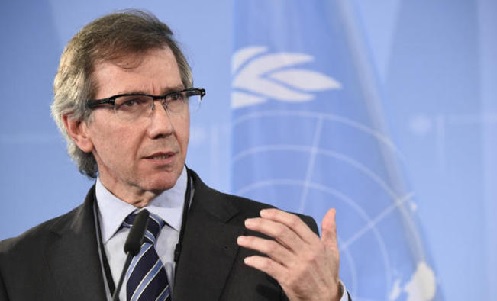 Libyan leaders working against a peace which is the key to saving the North African nation from Daesh (ISIS) will face international sanctions, the UN envoy who warned the talks Brokering an interview Friday.
Libya is divided into an internationally recognized Tobruk parliament and an Islamist leaning together in the capital Tripoli. Earlier this week, an ultimatum was missed for both sides to accept a national unity government.
"Some figures on both sides of Tripoli and Tobruk are sabotaging the agreement," said Bernardino Leon Italian newspaper La Repubblica. "But the international community has decided that it can not afford. If the sabotage continues, sanctions will come, "he added.
The UN Security Council has threatened such measures last week.
"Everyone knows what it is: travel bans, freezing of bank accounts and so on," said Leon.
The Spanish diplomat said "the overwhelming majority" of military and political leaders were behind a peace agreement, and having to "choose between putting Libya on the path to stability or leave their descent towards the country Civil war and terrorism of Islamic state. "
Leon said Daesh "is a serious threat not only for Libya but for the whole of the Mediterranean. This is why the United Nations and the international community are pushing for the agreement to be sealed without new negotiations or changes. "
Libya has suffered turmoil since 2011 a revolt overthrew the dictator Muammar Gaddafi with a succession of governments unable to impose their authority on the numerous militias that arose during the uprising.