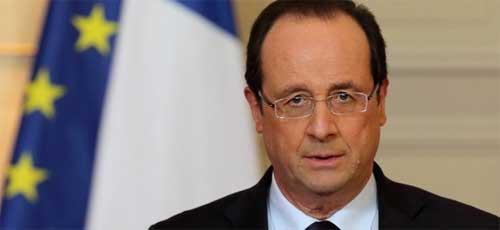 French President Francois Hollande made the announcement as he welcomed his Malian counterpart Ibrahim Boubacar Keïta at the start of an official two-day visit to Paris. After a formal dinner at the Elysee Palace on Wednesday the pair took part in an international conference at the headquarters of the Organization for Economic Cooperation and Development (OECD) on Thursday.
Holland and Keita have a strong personal relationship as well as diplomatic.
Malian President has come to France several times in the past, including when it appeared next to Holland January 11 to March this year following the attack on the office of Charlie Hebdo magazine.
For its part, France has been involved in Mali with the Serval military operation since January 2013, with the aim of stopping armed Islamist moving further south.
As evidence of this friendship, Keïta was awarded Legion of Honour of France Wednesday.
Countries are now looking forward to the future of Mali.
Following the signing of the Peace Agreement and reconciliation in May-June 2015, the OECD and the Government of Mali organized an international conference Thursday, 22 October 2015.
Officials of the Government of Mali, international partners, civil society and the private sector will discuss ways to advance the peace process and reconciliation in the country and ensuring economic recovery and development.
In an exceptional gesture, some members of the groups that signed the agreement will be present at the event for a symbolic picture.
Many partners in support of Mali met two years ago in Brussels, formalized a plan to rebuild infrastructure, particularly in the north where almost everything has to be replaced, schools, medical facilities to roads and electricity.
NGOs claim that the reconstruction of the runway in Kidal, undertaken by the UN mission Minusma nine months ago, must be accelerated. For now, the area is served only a helicopter from Gao, delivery of humanitarian aid difficult.
Of the EUR 360 million promised by Hollande, in the form of loans and grants a 50 percent value, 80 million have been allocated for northern Mali.