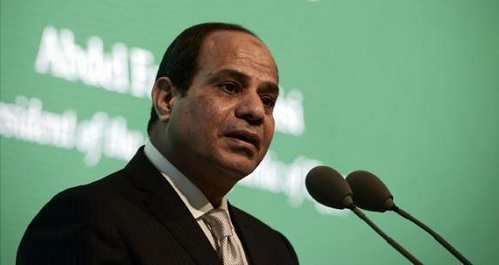 Egyptian President Abdel Fattah al-Sissi called for NATO powers to help rebuild Libya, prey to violence since an uprising supported by the Western military alliance ousted leader Muammar Gaddafi, in an interview.
Sisi was quoted in the British newspaper the Daily Telegraph ahead of a visit to London where he is to discuss security cooperation with Prime Minister David Cameron.
"Libya is a danger that threatens us all. If there is no government, then it creates a vacuum that extremists can flourish, "said Sisi, according to the Telegraph.
"It was a mission that has not been fully accomplished … We must support all efforts to help the Libyan people and the Libyan economy."
Libya has descended into chaos since longtime dictator Gaddafi was overthrown and killed in 2011 in the midst of an insurgency supported by the NATO states.
Chronic insecurity, with armed groups fighting for control of its energy resources and the two governments vying for power, made Libya a key launching point for smugglers of migrants supplying Europe of the crisis sending cargoes of people across the Mediterranean.
"We must stop the flow of funds and weapons and foreign fighters to extremist All NATO member -. Including Great Britain – who took part in the mission to overthrow Gaddafi need to give them help, "said Sisi.
It is the first visit of Sisi in Britain since his overthrow in 2013 of the first freely elected civilian leader of Egypt Mohamed Morsi, the 12-month rule of contention drew mass protests.