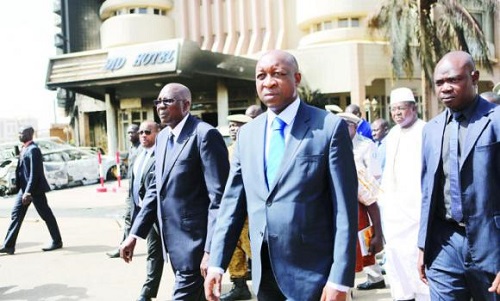 OUAGADOUGOU: Burkina Faso and Mali have agreed to work together to counter the growing threat of militants in West Africa by sharing intelligence and conducting joint security patrols following two deadly and well-coordinated attacks in the region.
Their prime ministers met on Sunday, two days after Al-Qaeda militants seized the Splendid Hotel in Burkina Faso's capital Ouagadougou, opened fire on a restaurant and attacked another hotel nearby, killing at least 28 people from at least seven countries, and wounding 50 other people.
The assault, claimed by Al-Qaeda in the Islamic Maghreb (AQIM), follows a similar raid in November on a luxury hotel in Mali's capital Bamako which killed 20 people, including citizens of Russia, China and the United States.
The exact details of the cooperation between Burkina Faso and Mali were not immediately clear, but the patrols and intelligence sharing mark an intent by the two countries to prevent the spread of militancy as AQIM and others expand operations in the region beyond their usual reach.
For years, militants have used northern Mali as a base, but over the past year they have staged a number of attacks in other parts of the country. Burkina Faso's authorities are now concerned that its long desert border with Mali could become a transit point for militants.
"There is a very strong political will on the part of the two states to combine our efforts to fight terrorism," said Burkina Faso's prime minister, Paul Kaba Thieba.
Thieba and his Malian counterpart Modibo Keita visited the outside of the Splendid Hotel on Sunday, where bullet holes and a charred exterior offered reminders of Friday evening's attack.
Tight security was in place around the hotel. Inside, Burkinabe and French security officials were conducting an investigation.