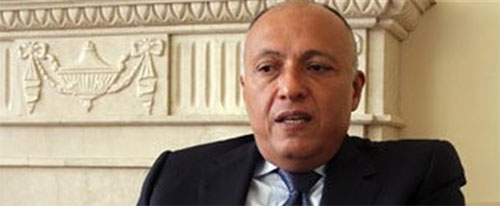 Egyptian Foreign Minister Sameh Shoukry will receive the Libyan Foreign Minister of the Tobruk government, Mohammed Al-Dairi, in Egypt on Monday.
They will discuss bilateral relations between both countries and the recent development on the formation of a Libyan unity government.
Meanwhile, the announcement of the new national unity government was postponed Sunday for another two days.
The presidential council that is supposed to form the government said in a statement that a progress was achieved in the negotiations but they need two more days to reach the final result. The delay in forming the national unity government reflects the conflict between the warring Libyan groups.
UN envoy to Libya Martin Kobler expressed his sorrow over the delay, and tweeted on his account: "Libya cannot withstand such delay."
Since 2014, Libya has been governed by two warring governments, one in Tobruk and one in Tripoli.
The UN-backed agreement, signed in Morocco, aimed to find solutions to the points of conflict between both governments, but the heads of the two parliament said the MPs who signed this agreement only represent themselves. The agreement gave the Tunisia-based presidential council one month to form a national unity government.
After formation of the new government, the Tobruk parliament will have only 10 days to agree on it.
Political analyst Youssef Cherif does not believe the two parliaments in Libya are the ones that will decide whether or not to accept the UN agreement.