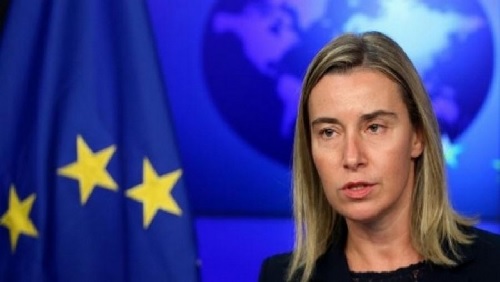 The European Union (EU) is to partner with the newly formed Libyan government to fight the Islamic State (IS) in Libya, EU foreign policy chief Federica Mogherini announced on Friday.
"The best condition to fight against Daesh (Islamic State) in Libya is to count on the government of National Accord to be in place and to work in partnership with them," Mogherini told the press after an informal meeting of the EU's foreign affairs council.
A new unity government under a plan backed by the United Nations was formed in Libya mid January. Headed by Fayez Al-Serraj, the new government comprises 32 ministers and four deputies to the prime minister. It will assume its powers after the House of Representatives' approval.
"The 28 member states of the EU all stated very clearly that we are ready to provide all the potential possible support to the (Libyan) government including in the security sector," said Mogherini, adding "This is going to be discussed, debated and decided together with the Libyans."
The EU has also started to discuss the possibility of reviewing the mandate of "Operation Sophia" with the Libyans, she added.
"Operation Sophia" is the EU anti-migrant smuggling operation in the Mediterranean Sea. It aims to seize vessels on the high seas suspected of being used for human smuggling and trafficking. Its operations could take place in the territorial waters of Libya and coercive actions against the smugglers could take place on Libyan soil.
"Operation Sophia could move to the next phase — phase 3 — in the moment when the Libyan authorities might find it useful to go into this cooperation," said Mogherini.