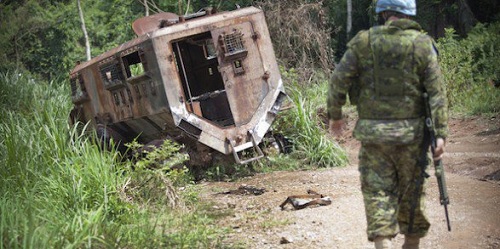 Thirteen civilians were killed in the night from Sunday to Monday by suspected Ugandan rebels in the Beni territory in eastern DRC, said the Congolese army.
"We have just discovered a total of thirteen bodies killed with knives, including four women," said Lt. Mak Hazukay, spokesman of the Armed Forces of the DRC in the area of
Beni, north of the province of North Kivu. "The ADF (Allied Democratic Forces) have perpetrated their dirty work in three isolated villages," then accused Lieutenant Hazukay.
The decapitated bodies with machete
These statements have clogged previous balance sheets. First, the administrator of the territory of Beni, Kalonda Amisi, had declared that two decapitated bodies with machetes had to be found.
Kalonda Amisi According to the killing took place in the village of Ntombi, located about 40 km northeast of Beni, an area massacres and recurrent attacks attributed to the ADF in the north of North Kivu. The circumstances of the killing remain unclear however: the Study Centre for the promotion of peace, democracy and human rights (Cepadho) has in turn reported at least twelve civilians massacred by the ADF in two villages.