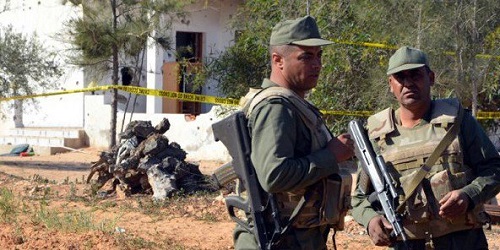 After a first foray in Tunisia, a terrorist group came from Libya launched attacks in Ben Guerdane Monday. Among the victims were 28 attackers, according to a provisional toll.
The scenario is always the same. Aboard Car 4 × 4, armed men crossed the border between Libya and Tunisia at night and at dawn targeting sensitive institutions such as hospitals and security buildings.
This time, they had in their sights a military barracks Jallel region and the safety of the National Guard district of the city Ben Guerdane, 30 kilometers from the border post of Ras El Jdir. According to local security sources, seven terrorists were captured, 28 were killed; among these is their leader, Meftah Manita, identified by the Tunisian authorities as extremely dangerous.
In the raid, seven civilians and ten members of the security forces (six gendarmes, two police officers, customs and a soldier) were killed. This assessment is provisional. For now, a semblance of calm does not prevent the persistence of tension and confrontation as much as hunting terrorists, eight are currently holed up in a house, is still ongoing.
Preliminary data show that the terrorists were obeying a specific strategy. They operated at five in the morning, two simultaneous attacks north and south of the city. Previously, they had fired on the vehicles crossed their path and caused the death of a customs officer and a National Guard. As the group which was made on March 3, the terrorists are all Tunisians who cut their teeth in Daesh.