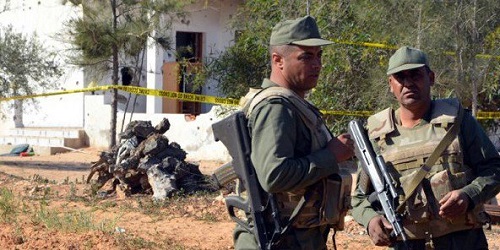 Algerian army has killed as many as 73 armed militants in different operations across the country in the past five months, the Algerian Defense Ministry said on Saturday.
In its June issue, the Algerian Army's "El Djeich" monthly magazine specified that counter-terrorism operations that have been launched between January and May 2016, led to the killing of 73 armed militants.
The source specified that army troops have also retrieved 485 Kalashnikov machineguns, 103 riffles of different types, 42 FMPK machineguns, 16 RPG-17 rocket launchers, 723 grenades, 79 homemade bombs and suicide belt bombs, 49 homemade mortars, in addition to a load of ammunition.
Some 248 terrorist bunkers have also been discovered and destroyed, added the source.
As for terrorist support networks, the magazine noted that 111 people have been arrested and introduced to justice to be tried.
Algeria is confronted to "remains" of terrorist groups, who are either locals or foreigners that managed to intrude from troubled neighboring nations.
The North African nation has been deploying more troops on the eastern borderline to thwart intrusion of arms and militants, amid unstable security situation in neighboring Tunisia, and the civil war hitting neighboring Libya.