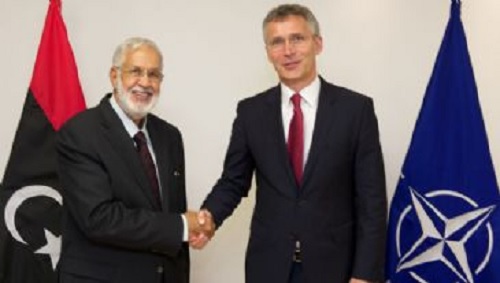 NATO Secretary-General Jens Stoltenberg held a meeting with Mohamed Taha Siala on Friday during which they discussed the political and security situation in Libya.
According to a NATO's web site on 17 June 2016, the meeting comes as part of the ongoing discussions on how NATO can help Libya improve its defense and security institutions.
Mr. Stoltenberg said he was encouraged by the progress made by the Government of National Accord (GNA) led by Prime Minister Fayez Al Sarraj.
Mr. Siala, who acts in the capacity of Minister of Foreign Affairs despite the fact that he and the GNA as a whole have yet to receive the vote of confidence from the House of Representatives, made the visit to NATO's headquarters at a time when the Libyan public are facing deep economic difficulties and power shortages that turned daily life unbearable.
The meeting also dealt with the NATO's possible assistance to Libya in the defense and security field as part of the international efforts to help the country face current security challenges.
NATO says it stands ready to assist Libya in the field of defense and security institution building, if requested by the GNA, in coordination with the United Nations and European Union.