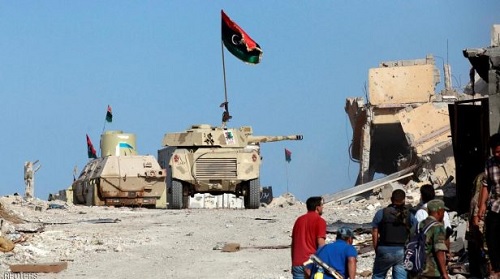 Libyan forces resumed their advance on Thursday against Daesh militants holding out in a few streets in their former stronghold of Sirte, saying they had captured 25 houses and a stash of arms.
Backed by US air strikes, the Libyan brigades have reduced the area held by the militants to a small patch of land near Sirte's Mediterranean seafront after a campaign of more than six months.
Lately, they say, they have been advancing with more caution in the Ghiza Bahriya district to limit casualties among their own fighters and among any hostages and families still held there.
"According to our information there are still civilians including women and children inside," Mohamed Al Gasri, a spokesman for the brigades, told private TV station Libya's Channel.
"The instructions are not to rush in, in order to limit the damage."
Rida Issa, another spokesman for the brigades, said they had recovered a 106 mm anti-tank gun and a store of ammunition during Thursday's advance.
One of the Misrata-led forces had been killed and three wounded, he said. He said perhaps 70 houses remained under Daesh control.
As of Tuesday, the United States had carried out 420 air strikes in Sirte since Aug.1, according to US Africa Command.
Several groups of civilians have either escaped or been released in Sirte in recent weeks, including migrants from sub-Saharan Africa who were captured by Daesh as they tried to make their way towards Europe.